PLAYFORM – Playground marking games for kids, Company logos and Street decorations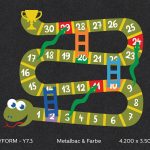 © 2010-2016 Metalbac & Farbe. All rights reserved.
The preformed thermoplastic material – PLAYFORM – is a product with a special design which is used for playground markings and horizontal markings signs.
PLAYFORM combines the durability of the thermoplastic horizontal road markings exposed to heavy traffic with special and unique designs, required by the necessity of educative games, interactive games and inspirational games, but also company logos and commercials, touristic marking symbols and last but not least, street decorations.
The playground marking games PLAYFORM are a nice way to bring color into the urban landscape dominated by asphalt and concrete. We list some of the most popular games on the asphalt: math games, maze games, twister games, hopscotch games, dragon games, crocodile games, snail games, rocket games etc.
For schools and local authorities, PLAYFORM is the best option to obtain educational games which stimulate the imagination and the creativity and encourage children to be active while having fun. Playground games for kids can be designed with different themes: linguistic games, math games, logical games, movement games etc, providing an alternative educational method that supports pedagogical activity. Playground games for kids can be installed in the school yard, where recreation is often synonym with boredom, conflict and even violence. Our products offer cooperative playground marking games, specially designed to develop physical activity and to decrease the tensions.
"Play is not a luxury. Play is a necessity." – K. R. Jamison
In the park or on any other available surface, playground games for kids can be installed, where they will rediscover the pleasure of the outdoor play, away from the video games, having the opportunity to cooperate with other children and to develop the team spirit.
With the PLAYFORM preformed thermoplastic product, Metalbac & Farbe offers a different option for company logos and custom symbols with advertising and decorative purposes or for guiding to certain locations. They can be installed on any bituminous surface, on the street, in parking spaces, in front of the offices or shops.
If you desire your own design for a specific game, to decorate a public area or to guide the tourists, Metalbac & Farbe has the capacity and flexibility to accomplish it.
Be creative! You imagine, we transform into reality!
PLAYFORM is a preformed thermoplastic material which shows superior features to any other classical road marking paints, being very durable. The obtained designs have a secure and non-slippery surface and the colors remain vivid and bright for a long time. The maintenance of preformed thermoplastic PLAYFORM is easy – refreshing of the designs is made by washing with high pressure water.
PLAYFORM is an environmentally friendly and solvent-free thermoplastic material, without pigments containing chromium or lead.
The application of the preformed thermoplastic PLAYFORM is simple and quick because the product is delivered in its final form, ready to be applied, requiring 1-2 trained operatives and a propane burner without any other expensive equipment. To adhere to the asphalt support, the thermoplastic material should be heated to a temperature between 200-220°C, temperature at which point the material reaches its liquid form, merging with the substrate.
A correct application, which ensures an optimal adhesion to the substrate, involves a thorough surface cleaning, removing the moisture and using the AC-341 primer.
Applying the antiskid granulates over the melted thermoplastic material provides a non-slippery surface. The playground marking games for children can be used immediately after the material has cooled down, usually within 10 minutes from the application (depending on temperature).
PLAYFORM is available in the following standard colors:

Other colors can be produced on request.
PLAYFORM is the optimal solution when you want a durable and inspirational design, created in colors which brighten the atmosphere.
Photo gallery – PLAYFORM games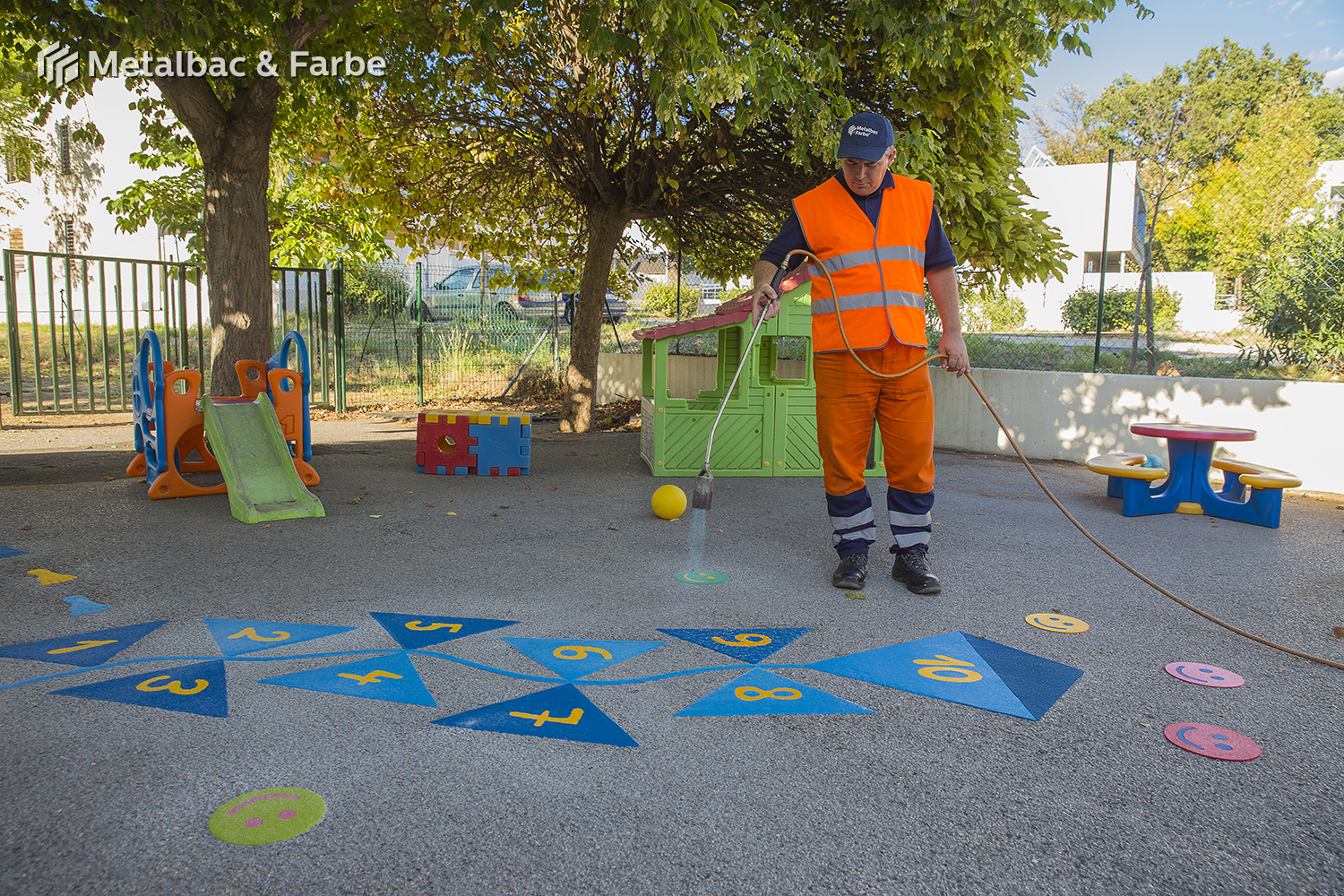 © 2010-2016 Metalbac & Farbe. All rights reserved.
Video – PLAYFORM projects